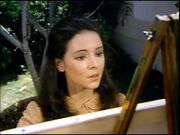 Annie Crane was a girl who lost her sight years ago at a very young age. She was talented as a painter and became friends with Laura Ingalls. A few short years later she moved to Walnut Grove and fell in love with Mr. Edwards and wanted to marry him. Soon after, an experimental eye operation restored her eyesight. Edwards was happy but he knew he was too old for a young woman like Annie.
Behind the Scenes
Annie Crane was played by Madeleine Stowe.
Ad blocker interference detected!
Wikia is a free-to-use site that makes money from advertising. We have a modified experience for viewers using ad blockers

Wikia is not accessible if you've made further modifications. Remove the custom ad blocker rule(s) and the page will load as expected.