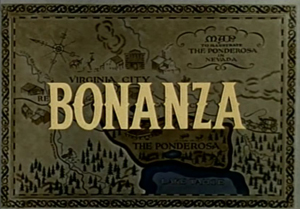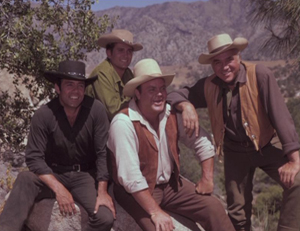 Bonanza is a western television series that ran on NBC from 1959 to 1973. Running for 14 seasons and 430 episodes, it is the second longest running western series on television, only behind Gunsmoke, which ran for 20 seasons and 635 episodes. The shows name comes from the Comstock Lode, which is a deposit of silver.
It starred Lorne Greene as Ben Cartwright, Pernell Roberts as Adam Cartwright, Dan Blocker as Hoss Cartwright, and Michael Landon as Little Joe Cartwright.
Connections
Behind the scenes
Machael Landon often used themes and storylines from Bonanza into Little house on the praire.?
Michael Landon would often think of Dan Blocker and gave the character Almanzo his hat in some episodes.?
External links
References
Ad blocker interference detected!
Wikia is a free-to-use site that makes money from advertising. We have a modified experience for viewers using ad blockers

Wikia is not accessible if you've made further modifications. Remove the custom ad blocker rule(s) and the page will load as expected.