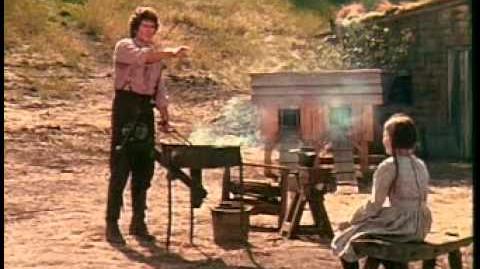 While attending a party at Nellie Oleson's, Laura hurts her ankle and becomes friends with Olga, a friendly girl with a birth defect causing one leg to be shorter than the other. The Ingalls decide to throw their own party and while Charles helps Olga despite her fathers lack of support, Laura exacts her own special revenge on Nellie Oleson.
Description
Laura becomes good friends with a lonely schoolmate, Olga, who has one leg that is shorter than the other. Charles secretly helps Olga by making her a special shoe. Olga's father finds out and is terribly upset until he sees Olga happily running and playing with the other children.

[1]
Cast
Trivia
Sources
External links
Ad blocker interference detected!
Wikia is a free-to-use site that makes money from advertising. We have a modified experience for viewers using ad blockers

Wikia is not accessible if you've made further modifications. Remove the custom ad blocker rule(s) and the page will load as expected.