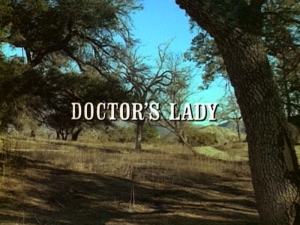 When Mrs. Oleson's niece Kate comes to visit, Doctor Baker falls for her and proceeds to court her. Unfortunately doubt lingering in his mind about his age causes his hopes for a happy relationship to fade. He must wrestle between his love for Kate and his fear concerning his age to make a difficult decision.
Description
Dr. Baker falls in love with Harriet's niece, Kate. He has to admit that she is too young for him when he sees Kate playing with Mary and Laura.
Cast
Trivia
Caroline challenges her husband's "if it's right for them, then it's right" theory by asking him how he'd feel if a man older than him wanted to marry one of his daughters. Although that never happened to Charles, he did have trouble accepting Laura's love interest Almanzo Wilder five years later, because he was a significant number of years older. What's more, the real-life Grace Ingalls--who was born in Season 4 and was the youngest Ingalls child--married a 42-year-old man when she herself was 24!
Season 9's "Love" shares a lot in common with this episode. Mr. Edwards falls for a young girl who is half his age--only to realize that marriage would eventually be a burden to her.
Actress Anne Archer, who played Kate in this episode, is the daughter of Marjorie Lord from Make Room for Granddaddy. Anne is perhaps best known for her role in the film Fatal Attraction.
External links
Ad blocker interference detected!
Wikia is a free-to-use site that makes money from advertising. We have a modified experience for viewers using ad blockers

Wikia is not accessible if you've made further modifications. Remove the custom ad blocker rule(s) and the page will load as expected.