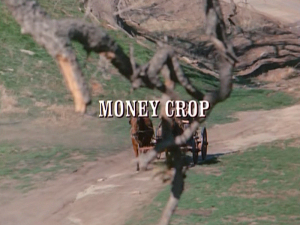 Plot
A young, university-educated farmer named Joseph Coulter convinces the farmers to buy new hybrid corn. As he returns with the crop, Coulter's horses bolt causing his wagon to veer down a steep hill trapping the farmer underneath exposing the precious seed to hungry crows. The residents of Walnut Grove fear that they may have been cheated and take their frustrations out on his wife with harsh accusations. Charles is convinced something is wrong and hurries to look for him.
Cast
Starring
The Town
Guest Starring
Co-Starring
Featuring
Trivia
Actress Julie Cobb (Mrs. Coulter) is the daughter of veteran actor Lee J. Cobb. She was married to Victor French (Mr. Edwards) from 1976 to 1978.?
External links
Ad blocker interference detected!
Wikia is a free-to-use site that makes money from advertising. We have a modified experience for viewers using ad blockers

Wikia is not accessible if you've made further modifications. Remove the custom ad blocker rule(s) and the page will load as expected.