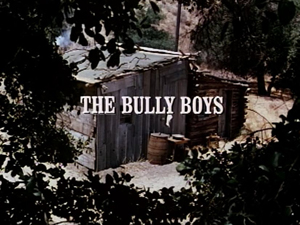 The Galender brothers, two adults and a teenager, come to Walnut Grove and quickly cause trouble. Reverend Alden pleads with the townspeople to be patient with the newcomers, but it soon becomes clear the Galender want to do nothing but cause trouble. They run up bills at the Mercantile and Hanson's Mill, promising to pay with a bank draft that never appears, while the boy causes trouble at school, eventually punching both Laura and Mary.
Things get uglier when the men assault Caroline while she was on the way to the Mercantile to deliver eggs; when Charles goes to confront the Galenders, he is beaten up. Reverend Alden realizes the Galenders are nothing but thugs and invites them to church, to order them out of town.
Cast
External links
Ad blocker interference detected!
Wikia is a free-to-use site that makes money from advertising. We have a modified experience for viewers using ad blockers

Wikia is not accessible if you've made further modifications. Remove the custom ad blocker rule(s) and the page will load as expected.