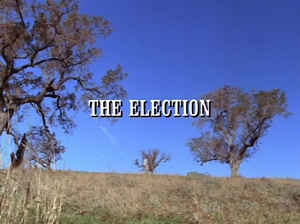 A three-way race for class president ensues, with Nellie and Mary battling the slow-witted Elmer Dobkins for the honor. Plenty of shenanigans ensue: Elmer's nomination was just a joke, while Mary and Nellie each host parties to try to win votes. After Nellie plays a cruel joke on Elmer, Miss Beadle soon puts a stop to the whole idea of class officers, until Laura pleads with the teacher that many lessons have been learned.
In the end, Willie winds up casting the deciding vote.
Cast
External links
Ad blocker interference detected!
Wikia is a free-to-use site that makes money from advertising. We have a modified experience for viewers using ad blockers

Wikia is not accessible if you've made further modifications. Remove the custom ad blocker rule(s) and the page will load as expected.