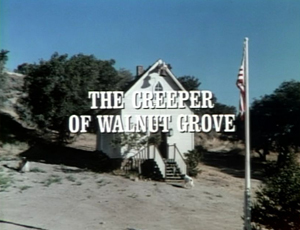 Laura and Andy become detectives to solve a series of burglaries in Walnut Grove. After an incident at the Oleson's, Charles becomes very angry with his daughter. However, things get worse when Laura sets some traps to catch the culprit, but winds up catching Charles instead (at one point, causing him to be doused with green paint). It is soon revealed that a boy named Timothy Ferrel was the creeper all along.
Cast
External links
Ad blocker interference detected!
Wikia is a free-to-use site that makes money from advertising. We have a modified experience for viewers using ad blockers

Wikia is not accessible if you've made further modifications. Remove the custom ad blocker rule(s) and the page will load as expected.