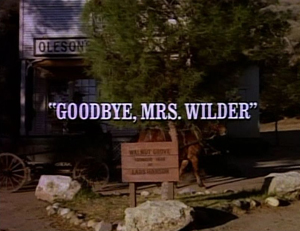 Laura finally loses her patience with Harriet Oleson's meddling and "suggestions" for the school. So, Laura resigns and lets Mrs. Oleson run the school, a task she gleefully accepts. She implements French lessons and art appreciation into the curriculum, and makes the children wear uniforms to school.
Albert leads a class rebellion against Mrs. Oleson's nonsense, but Laura admonishes him for taking matters into his own hands. Meanwhile, Nels – who supports the more traditional curriculum – says nothing, since he knows he can't get through to his wife, so he allows the visiting regional superintendent of schools to do the talking for him.
Cast
Regulars
Guest stars
External links
Ad blocker interference detected!
Wikia is a free-to-use site that makes money from advertising. We have a modified experience for viewers using ad blockers

Wikia is not accessible if you've made further modifications. Remove the custom ad blocker rule(s) and the page will load as expected.