Episode 722: The Lost Ones (Part 2)
Comments

0
688pages on
this wiki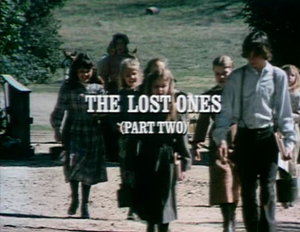 Reverend Alden announces he has found a family – the Tompkins – to take in orphaned James and Cassandra, unaware the father is mean and is only interested in extra farmhands. At one point, James is unjustly accused of stealing from Mr. Tompkins and is given a whipping. Eventually, the abuse takes its toll, and James and Cassandra run away.
The Tompkins tell the Ingalls the children are missing but, when Mr. Tompkins declines to help Charles in the search, it becomes clear he's more interested in getting the children home to teach them a lesson rather than for their safety. In the end, James and Cassandra decide they would be much happier living with the Ingalls, a responsibility that Charles and Caroline realize they must accept.
External links
Edit
The film "Love's Unending Legacy" uses a similar theme to this episode.