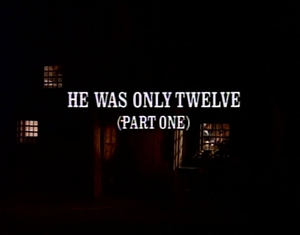 Plot
Charles, Albert, James and Mr. Edwards travel to Sleepy Eye to make a delivery. James and Albert go to the bank to deposit some money and arrive while a robbery is in progress.
Tragically, James is shot and lapses into a coma showing no hope of recovery. The doctor must advise Charles that he will likely die. An embittered Charles tracks down the criminals to seek revenge.
Trivia
The first part of this two-part story is a re-write of the 1972 Bonanza episode, "He Was Only Seven."
Cast
External links
Ad blocker interference detected!
Wikia is a free-to-use site that makes money from advertising. We have a modified experience for viewers using ad blockers

Wikia is not accessible if you've made further modifications. Remove the custom ad blocker rule(s) and the page will load as expected.