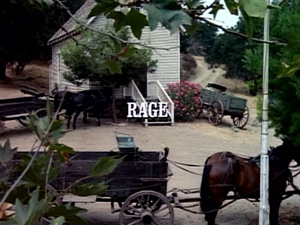 A farmer named Thomas Stark is denied a loan at the bank and soon goes bankrupt. In a rage, he shoots his wife and daughter, then goes on the run. During the manhunt, Mr. Stark hides at the Wilders' residence, and then snaps. He begins to think Laura and Jenny are his wife and daughter. With Almanzo part of the posse, Laura and Jenny must rely on their own wits to defeat Stark.
Cast
External links
Ad blocker interference detected!
Wikia is a free-to-use site that makes money from advertising. We have a modified experience for viewers using ad blockers

Wikia is not accessible if you've made further modifications. Remove the custom ad blocker rule(s) and the page will load as expected.