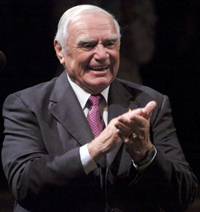 Ernest Borgnine (b. January 24, 1917 - d. July 8, 2012) was an Golden Globe, BAFTA and Academy Award winning actor.
He played the role of Jonathan in the Season 1 two-part episode "The Lord is My Shepard." Other works for Mr. Borgnine include McHale's Navy, SpongeBob SqaureBobs, The Simpsons amongst many others.
External links
Ad blocker interference detected!
Wikia is a free-to-use site that makes money from advertising. We have a modified experience for viewers using ad blockers

Wikia is not accessible if you've made further modifications. Remove the custom ad blocker rule(s) and the page will load as expected.