Etta Plum
Biographical information
Gender

Female

Ethnic group

American

Eye color

Green

Hair color

Dark Brown

Height

Average

Weight

unknown

Born

unknown

Died

unknown

Family

unknown

Title

School Teacher

Behind the scenes
First appearance
Latest appearance
Portrayer
.

Etta Plum was the final teacher at the Walnut Grove school.
Behind the scenes
Etta Plum was portrayed by Leslie Landon who is Michael Landon's daughter.
Gallery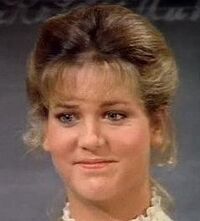 Ad blocker interference detected!
Wikia is a free-to-use site that makes money from advertising. We have a modified experience for viewers using ad blockers

Wikia is not accessible if you've made further modifications. Remove the custom ad blocker rule(s) and the page will load as expected.