Eva Beadle-Simms
Comments

0
744pages on
this wiki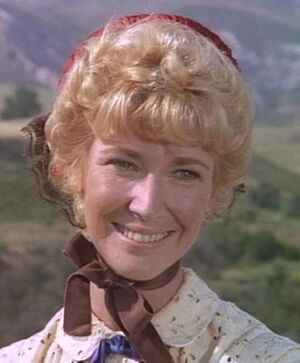 Eva Beadle-Simms (or Miss Beadle) was a school teacher at the Walnut Grove school, and the first teacher that Mary and Laura Ingalls had other than Caroline. Eva was the primary teacher at the school with a few exceptions, such as when she was injured while on her buckboard after her horse got spooked (Caroline who was a former teacher substituted for her during this time).
Eventually she got married to Adam Simms and was the stepmother to his son Luke. During this time Nellie Oleson and Luke left Walnut Grove in the night and got married, the marriage was cut incredibly short when Harriet and Nels, Harriet brought a rifle and it went off, shooting the ceiling. After this, Nellie and Luke got a divorce and while the divorce was taking place Adam and Eva decided to get married, and Nellie was the maid of honor.
Eva gave birth to her and Adam's first child in, "The Most Precious Gift", she had a boy named Matthew. This caused Caroline to get mad because she wanted a boy.
Adam, Eva, and Luke eventually left Walnut Grove when Adam couldn't find work.
Behind the scenes
Miss Beadle was portrayed by Charlotte Stewart throughout the series. In 2006, Charlotte Stewart was nominated for a "Teacher of the Year" award presented by the TV Land awards. During in interview conducted by Little House fansite Prairie Fans, Stewart was asked about what it was like to be on Little House: "I absolutely loved being on the Walnut Grove set when we were shooting in Simi Valley. It really was like stepping into the old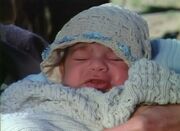 west. I felt so comfortable in the clothes and playing the part of a teacher to the children. My godmother Pauline Wilkie was actually a teacher in a one room schoolhouse in Mendocino California."
[1]
In total, Miss Beadle appeared in 45 episodes.
External links
References