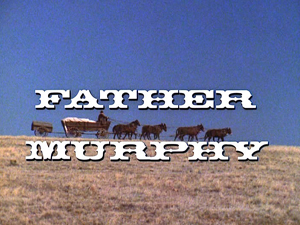 Father Murphy was a television show created by Michael Landon and is often remarked as Little House on the Prairie's little sister.[1] The show ran for 35 episodes and starred Merlin Olsen as John Michael Murphy, Katherine Cannon as Mae Woodward and Moses Gunn as Moses Gage. In total, Father Murphy was nominated for six awards.[2]
This is also where Shannen Doherty made her acting debut at the age of 10. She played an orphaned girl named Drusilla Shannon who was raised in the mountains and just discovered civilization, which was her ticket onto Little House.[1] That storyline was covered in the two part episode "By the Bear That Bit Me" which was directed by William F. Claxton. He directed 68 episodes of Little House.
Connections
Coming Soon!
External links
References
Ad blocker interference detected!
Wikia is a free-to-use site that makes money from advertising. We have a modified experience for viewers using ad blockers

Wikia is not accessible if you've made further modifications. Remove the custom ad blocker rule(s) and the page will load as expected.