Gunsmoke was an American western radio and TV show which ran from 1952 to 1961.
The show was all about Marshal Matt Dillon keeping law and order in the wild town of Dodge city during the settlement of the American Old West. The shows depicts the everyday problems in the Old West such as: cattle rustling, gunfights, brawls, horse thieving, and land fraud. The show is similar in one way as it shows good people, in this case one man standing up for what is right such as what is the case a lot in Little House.
Many famous actors and actresses starred in the show including Karen Grassle, who played Caroline Ingalls on Little House on the Prairie.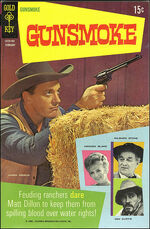 Connections
References
External links
Ad blocker interference detected!
Wikia is a free-to-use site that makes money from advertising. We have a modified experience for viewers using ad blockers

Wikia is not accessible if you've made further modifications. Remove the custom ad blocker rule(s) and the page will load as expected.