Hanson's Mill
was a mill in
Walnut Grove
owned by the town's founder
Lars Hansen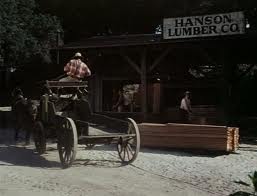 .
Charles Ingalls
,
Isaiah Edwards
and
Jonathan Garvey
worked there among many others. The mill was one of the first buildings built in Walnut Grove and was the town's main industry. After Walnut Grove became Bankrupt the mill was soon closed and went into despair along with the rest of the town. When former Walnut Grove citizen's returned, the mill was soon repaired and put back into good use, although Lars Hanson who was ill at the time died shortly after but was happy that his mill and the town that he had founded many years ago had returned to its former glory. After Hanson's death the mill was run by the townspeople.
In 1890 the mill was one of the many buildings blown up by the townspeople.
Ad blocker interference detected!
Wikia is a free-to-use site that makes money from advertising. We have a modified experience for viewers using ad blockers

Wikia is not accessible if you've made further modifications. Remove the custom ad blocker rule(s) and the page will load as expected.