Hermione Baddeley
Personal Information
Birthname:
Hermione Youlanda Ruby Clinton-Baddeley
Sex/Gender:
Female
Born:
November 13, 1906
Birthplace:
Broseley, Shropshire, England, UK
Died:
October 21, 1986
(aged 79)
Deathplace:
Los Angeles, California, U.S.
Series Information
Appeared as:
Kezia Horn
Appeared on/in:
Little House on the Prairie"
No. of appearances:
"Castoffs" (Season 4)
"The Handyman" (Season 4)
"The Lake Kezia Monster" (Season 5)
Hermione Baddeley (born September 12, 1907 - died October 21, 1985) guest starred on Little House on the Prairie, playing the role of Kezia Horn in Castoffs, The Handyman in Season 4 and The Lake Kezia Monster in Season 5.
Career
A veteran English character actress of theatre, film and television. She was nominated for an Academy Award for Best Supporting Actress for her performance in Room at the Top (1959) and a Tony Award for Best Performance by a Leading Actress in a Play for The Milk Train Doesn't Stop Here Anymore in 1963. She typically played brash, vulgar characters, often referred to as "brassy" or "blowsy".[1][2] She found her milieu in revue, in which she played from the 1930s to the 1950s, co-starring several times with Hermione Gingold.
Other roles include Wonder Woman, The Love Boat, and Maude among others.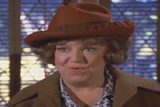 Personal life
Herimone was married and divorced twice, first to English aristocrat David Tennant in 1928; they had a daughter, Pauline Tennant (1927-2008) before divorcing in 1937.
She then married J. H. "Dozey" Willis. They divorced in 1946. She had a relatively brief relationship with actor Laurence Harvey, a man 22 years her junior. Although Harvey proposed marriage to her, Baddeley thought the age difference was too great.[3]
Herimone was known for her devotion to animals. She dedicated her autobiography, The Unsinkable Hermione Baddeley, to her pet dog. She continued to work in film and television until shortly before the end of her life.
Death
She died following a series of strokes on 19 August 1986, aged 79, at Cedars-Sinai Medical Center in Los Angeles. She was survived by two children, daugther Pauline and son David, Jr., from her first marriage. She was interred in St Mary and St Melor Parish Church in Amesbury, Wiltshire.[4]
Refernces
External links