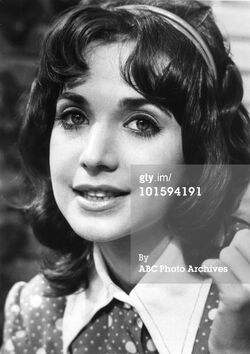 Jane Alice Brandon is an actress.
She played Mimi Monroe in the episode Episode 124: To See the World.
Career
Jane has had roles in popular television series such as the Kojak, Happy Days, The Incredible Hulk, and Charlie's Angels. She also played Alexandra Friel twice in Family.
She has not had a known acting role since 1979.
External link
Ad blocker interference detected!
Wikia is a free-to-use site that makes money from advertising. We have a modified experience for viewers using ad blockers

Wikia is not accessible if you've made further modifications. Remove the custom ad blocker rule(s) and the page will load as expected.