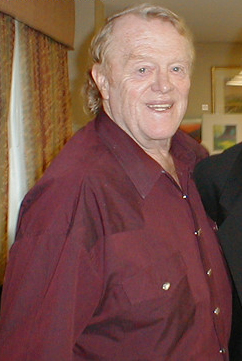 Kevin Hagen (b. April 3, 1928 - July 9, 2005) was a Chicago born actor best known for playing Hiram Baker, the town doctor on Little House on the Prairie. Born to professional ballroom dancers, Hagen was raised by his mother, grandmother, and aunts.
He worked for the US State Department in West Germany, and spent a year in law school at UCLA after attending Oregon State University and the University of Southern California before deciding to try acting at the age of 27.
He was spotted in a production of Eugene O'Neill's Desire Under the Elms and given a guest role on the 1950s television series Dragnet. He than began to work steadily in television and film.
His first regular role on a series was 1958's popular cult western Yancy Derringer as city administrator of New Orleans, John Colton, circa 1868. As Colton, at the beginning of the episode, he asks Yancy to solve New Orleans present threat, and at the end of the episode arrests Yancy for breaking the law to do it.
He was once married to actress Susanne Cramer until her death in 1969.
At his death, Hagen left a widow, Jan (his fourth wife; he met her in 1993), and a son, Kristopher.
Credits
The Gray Ghost: Price
Jane Wyman Presents: Sam
Tales of Wells Fargo: Milt
Suspicion
M Squad: Eddie Ferguson
Schlitz Playhouse of Stars: Jacobi
Dragnet
Wagon Train: Jeff Claymore, Lansing
The Walter Winchell File: Whispers
Goodyear Theatre: Sheriff Mallory
The Light in the Forest
Gunsmoke in Tucson: Clem Haney
Yancy Derringer: John Colton
General Electric Theater: Ghost, Pete, Harry Pell
Riverboat: John Hollister
Sugarfoot: Sam Fields
Mr. Lucky: Jojo
The Deputy: Kemmer
Hotel de Paree: Orville Prentiss
Outlaws: McKinnon
Bat Masterson: Ace Williams
Cain's Hundred: Hit Man
The Rifleman: Billy St. John, Harry Devers
Straightaway
Cheyenne: Moran
Rawhide: Jess Cain
Thriller: Arno Lunt
The New Breed: Arne Halverson
Maverick: Justin Radcliffe
Lawman: Cort Evers
Rider on a Dead Horse: Jake Fry
The Untouchables: Swede Kelso, Jan Tobek
Have Gun - Will Travel: Ed Bosworth, Everette, Jory, Judd Bowman
77 Sunset Strip: Henry Foster
Laramie: David, Roy Bartell
The Gallant Men: Sergeant Stein
G.E. True: Bud Wiley, Simms
The Man from Galveston: John Dillard
The Twilight Zone: Captain James Webber, Pete Radcliff
The Lieutenant: Farrell
Kraft Suspense Theatre: Nilsen
Rio Conchos: Major Johnson
Profiles in Courage
Shenandoah: Mule
Branded: Paul Mandell
Perry Mason: Sgt. Burke, Jacob Leonard, Samuel Carleton
A Man Called Shenandoah: Pike
Blue Light: Erik Kozlof
Lost in Space: Alien
Felony Squad: Ben Weil
The Time Tunnel: Greek Sword Leader, McDonnell, Sergeant Maddox, Prince, Alien Planet Leader
The Man from U.N.C.L.E.: Krolik, Passenger, Darien Dawson
The High Chaparral: Dolph Tanner
Bonanza: Everett Paster, Hobie Klinderman, Simon, Sheriff King, Brother Guy
The Last Challenge: Frank Garrison
Gunsmoke: Bill Jennings, Coney Thorn, Nate Cumbers, Kelly Bowman, Hobie Larker, Emmett Ginnis, Judge Josh Pike
The Wild Wild West: Silas Crotty
Cimarron Strip: Dum Dum
Voyage to the Bottom of the Sea: Dr. Alex Holden, Komal
Lancer: Packer
The Virginian: Judd Hadlock
The Big Valley: Harry Coleman, Charlie, Amos Farrell, Sheriff Zack Fane, Barney, Zack Case
The Guns of Will Sonnett: Prosecutor Kingman
The Outcasts: Sheriff
The Mod Squad: Evans
The Learning Tree: Doc Tim Cravens
Daniel Boone: John Dobson, Stokes, Bart Wallace
Bracken's World: Ben Cabot Sr.
Hallmark Hall of Fame: Policeman
Land of the Giants: Insp. Dobbs Kobick
The Senator: Joseph Lick
The Silent Force
The New Doctors: Blake
Weekend of Terror: Lieutenant Papich
Mission: Impossible: David Webster, Kurt Lom, Dave Klinger
Vanished: Matthew Silkwood
Monty Nash: Sheriff Mannings
Dead Men Tell No Tales: Karl
Ironside: Owen Simmons, Anton Beecham
The Delphi Bureau: Luke
Mannix: Archer, Jackson, Alan Guthrie, Sheriff
Gentle Savage: Ken Shaeffer
The Soul of Nigger Charley: Col. Blanchard
The New Perry Mason
The Cowboys: Josh Redding
Honky Tonk
Get Christie Love!: Harrison
Harry O: Prof. Fineman
Return to Peyton Place: Harry Gilbert
Sara
The San Pedro Bums: Mr. McClory
M*A*S*H: Colonel Coner, Major Goss
Quincy M.E.
Power: James Hackett
The Hunter: Poker Player
Beulah Land: Sheriff Barnes
The Dukes of Hazzard: Farmer Perkins
Fantasy Island: Sam Hagen
Knots Landing: Butler
Simon & Simon: Tommy Luna
Power: Cop
Amazing Stories: Rob Wellan
General Hospital: Toughie
Trial by Jury: Judge
Matlock: Dr. Halvern
Bonanza: The Next Generation: Nathaniel Amsted
The Ambulance: Cop
External links
Ad blocker interference detected!
Wikia is a free-to-use site that makes money from advertising. We have a modified experience for viewers using ad blockers

Wikia is not accessible if you've made further modifications. Remove the custom ad blocker rule(s) and the page will load as expected.