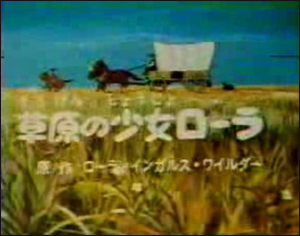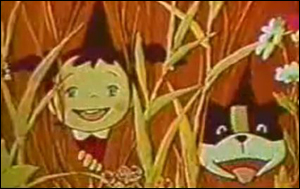 Laura, a Little Girl on the Prairie (草原の少女ローラ) was an anime cartoon based on Little House on the Prairie. It ran for twenty-six half hour episodes, and was directed by Mitsuo Ezaki and Seiji Endô. The opening theme was "Sougen no Shojo Laura" by Kumiko Ousugi the ending theme was "Laura no Komoriuta", by Ousugi as well.
In the original Japanese cast, Kazuko Sugiyama voiced Laura Ingalls. Additionally, production for the show was done by Nippon animation. The show was also done in Italian and Spanish versions.
Cast
Japanese cast
Kazuko Sugiyama: Laura

Eiko Masuyama: Mom
Hideo Nakamura: Dad
Masako Sugaya: Mary
Yoneko Matsukane: Carrie
Hiroko Maruyama: Jimmy
Ryuuji Saikachi: Fitch
Toshio Furukawa: Carlos
Yoshiko Ohta: John
Yuu Mizushima: Freddy
Yuzuru Fujimoto: Dr. Tan
Crew
Director: Mitsuo Ezaki, Seiji Endô
Music: Akihiko Takashima
Character design: Yasuji Mori
Art director: Masahiro Ioka
Animation director: Yasuji Mori
Director of photography: Keishichi Kuroki
Executive producer: Kôichi Motohashi
Audio director: Morio Kobayashi
Storyboard writer: Takeyuki Kanda
External links
Ad blocker interference detected!
Wikia is a free-to-use site that makes money from advertising. We have a modified experience for viewers using ad blockers

Wikia is not accessible if you've made further modifications. Remove the custom ad blocker rule(s) and the page will load as expected.