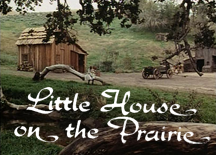 Little House Wiki is a collaborative resource all about Little House on the Prairie. It opened on January 6, 2008 and since then it's grown to 810 articles, which includes books, characters and episodes, among many others. The wiki was founded by Phillip Friedrich, who fermerly served as an administrator with Michael. Currently there are three asysops, Ducksplash, DarkLantern, and Hill Nothing fan. Little House Wiki is hosted by Wikia.
The goal of the website is to become the most detailed, resourceful, and helpful Little House website on the internet. Because the wiki uses the common wiki format, anyone can create an account while logged in or edit anonymously.
Everyone is welcome to edit and we hope that you will!
External links
Note: Since The Wiki has been adopted the new staff does not know these passwords, so these will not be updated.
Ad blocker interference detected!
Wikia is a free-to-use site that makes money from advertising. We have a modified experience for viewers using ad blockers

Wikia is not accessible if you've made further modifications. Remove the custom ad blocker rule(s) and the page will load as expected.