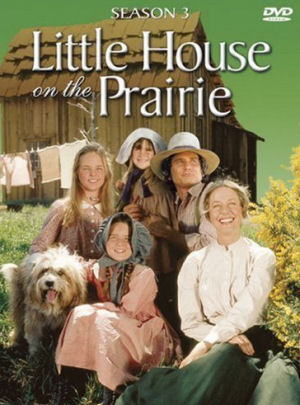 Little House on the Prairie: Season 3 is a DVD box set that includes all of the episodes from season three of the Little House on the Prairie television series. It was released in region one format on November 4, 2003 and in region two on March 10, 2008. In the United States, episodes from season three aired from September 27, 1976 to April 4, 1977.
Season three of the series ranked in at number 16 in the television rankings for 1976-1977.[1]
Season notes
Laura gets her horse Bunny back from Nellie after Nellie fakes being paralyzed. Laura and Nellie also compete in a horse race in which Laura wins despite Nellie having a prized thoroughbred horse. Later when Lansford Ingalls arrives and Laura shows off her riding skills to him. Tragically while doing so Bunny races through a barbed wire fence and must be put down.
Lansford Ingalls, the father of Charles, comes to visit after the death of his wife and mother of Charles, Laura. He is very depressed at his lost and after a less than promising start Laura helps him recover.
Principal Cast
Recurring Cast
Episodes
References
External links
Ad blocker interference detected!
Wikia is a free-to-use site that makes money from advertising. We have a modified experience for viewers using ad blockers

Wikia is not accessible if you've made further modifications. Remove the custom ad blocker rule(s) and the page will load as expected.