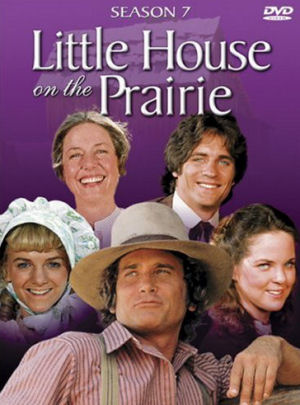 Little House on the Prairie: Season 7 is a six-disc DVD collection that contains all twenty-two episodes from the seventh season of Little House on the Prairie. Each episode has been digitally restored with "state-of-the-art color correction, picture enhancement and noise reductions technologies."
The box set was released in region one on February 15, 2005, it has not been released in region two. For the television rankings from 1980 to 1981 season seven ranked in at number 10.[1]
Disc features
Disc one
Disc two
Bonus features
Disc three
Disc four
Bonus features
Disc five
Bonus features
Disc six
Bonus features
Interactive Quiz: Season 7 Trivia Challenge
Season notes
Laura and Almanzo marry.
Nellie gives birth to twins.
Principal cast
Recurring cast
References
External links
Ad blocker interference detected!
Wikia is a free-to-use site that makes money from advertising. We have a modified experience for viewers using ad blockers

Wikia is not accessible if you've made further modifications. Remove the custom ad blocker rule(s) and the page will load as expected.