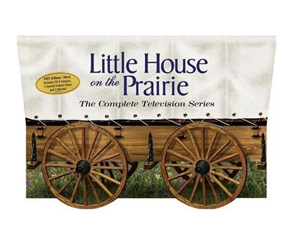 Little House on the Prairie: The Complete Series is a DVD boxed set that includes every episode of the NBC Little House on the Prairie television series and the three final television movies. It does not include the pilot movie. In total, there is 60 discs in the set: three of which are for specials features that includes interviews with Karen Grassle, Richard Bull, Katherine MacGregor, Matthew Laborteaux, Patrick Labyorteaux and Merlin Olsen.
The special features that were on the individual seasons are also included. Little House on the Prairie: The Complete Television Series was released by Lionsgate Entertainment on December 4, 2008.
Also to note: episodes on the set are edited and cut the same as the individually released seasons.
Ad blocker interference detected!
Wikia is a free-to-use site that makes money from advertising. We have a modified experience for viewers using ad blockers

Wikia is not accessible if you've made further modifications. Remove the custom ad blocker rule(s) and the page will load as expected.