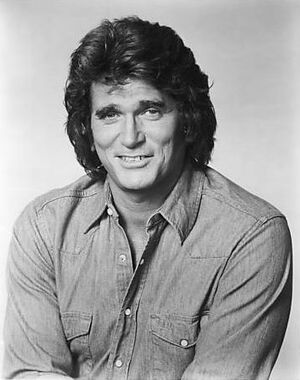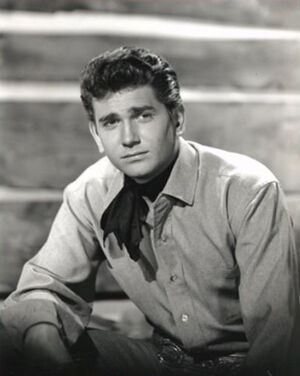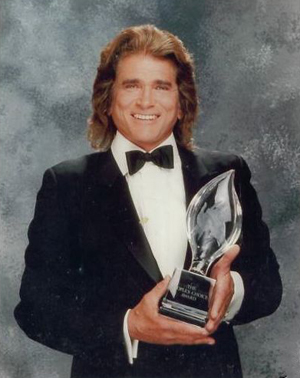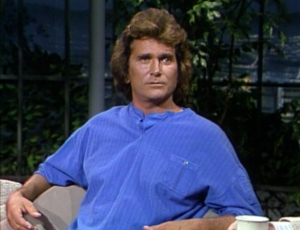 Michael Landon (October 31, 1936 – July 1, 1991) was an American actor, writer, director, and producer, who starred in three popular NBC series that spanned three decades. He is widely known for his roles as Little Joe Cartwright in Bonanza, Charles Ingalls in Little House on the Prairie, and Jonathan Smith in Highway to Heaven.
Although his Bonanza co-star David Canary, and youngest daughter Jennifer Landon have both won Emmys, Landon was never given the honor. Nonetheless, few prime time actors have been so prolific. With twenty-eight years of full-hour episodic acting, he surpasses the TV mileage of both James Arness and Lucille Ball. Landon produced, wrote, and directed many of his series' episodes, including his only short-lived production, Father Murphy, which starred his friend and "Little House" co-star Merlin Olsen.
In 1976 Landon wrote and directed an auto-biographical movie, The Loneliest Runner, and was nominated for two Emmys. He also hosted the annual long-running coverage of the Tournament of Roses Parade with Kelly Lange, also on NBC. In 1981, Landon won recognition for his screenwriting with a Spur Award from the Western Writers of America.
Bonanza
Michael Landon's first large role was playing "Little" Joe Cartwright for fourteen seasons. This is also where Landon gained experience in directing and writing episodes for television. The same year Bonanza ended Michael Landon co-created Little House on the Prairie.
External Links
Ad blocker interference detected!
Wikia is a free-to-use site that makes money from advertising. We have a modified experience for viewers using ad blockers

Wikia is not accessible if you've made further modifications. Remove the custom ad blocker rule(s) and the page will load as expected.