Melissa Gilbert Autobiography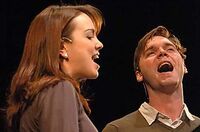 Melissa Gilbert

is heading back to the prairie. Thesp has signed on for the world preem of the tuner version of "Little House on the Prairie," bowing at the Guthrie Theater in Minneapolis this summer.

Gilbert, who grew up starring as Laura Ingalls Wilder on NBC's 1974-83 series rendition of "Prairie," will play Laura's mother, Ma, in the musical. Steve Blanchard ("Beauty and the Beast") will play Pa, and recent Carnegie Mellon grad Kara Lindsay will portray Laura.

Jenn Gambatese ("Tarzan") will play older sister Mary, with Sara Jean Ford as neighborhood brat Nellie and Kevin Massey as Laura's eventual husband, Almanzo Wilder.

Gilbert appeared in a developmental workshop presentation of the musical last year, with Patrick Swayze co-starring as Pa.

Ben Sprecher, who heads a team of commercial producers attached to the project, approached Gilbert about returning to "Prairie," a property that remains much loved today.

"I'm very careful about the way the legacy is handled," she said. "My primary concern was that the material was done the right way."
Ad blocker interference detected!
Wikia is a free-to-use site that makes money from advertising. We have a modified experience for viewers using ad blockers

Wikia is not accessible if you've made further modifications. Remove the custom ad blocker rule(s) and the page will load as expected.