Little House on the Prairie: The Complete Television Series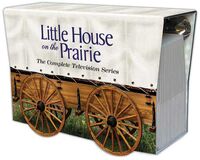 Great news!, on November 4th, Lionsgate Entertainment will be releasing a box set with all of the seasons of Little House, on a 60 disc set. It will include all of the seasons: 1, 2, 3, 4, 5, 6, 7, 8, 9, and 10 which is the television movies. The set is also loaded with bonus features. Here a list of all of those: Interviews with Merlin Olsen, Patrick Laborteaux, Matthew Laborteaux, Richard Bull, Katherine MacGregor, Karen Grassle, and Melissa Sue Anderson.
Also included: "A Little House Conversion" with Melissa Gilbert, Audio Commentary by Alison Arngrim on episodes Bunny, Here Comes the Brides, The Cheaters, Oleson Versus Oleson, and The Return of Nellie. The box set also features four featurettes: "Casting Little House," "Ed Friendly: Creating Little House," "Remembering The Last Farewell," and "The Genius of Michael Landon."