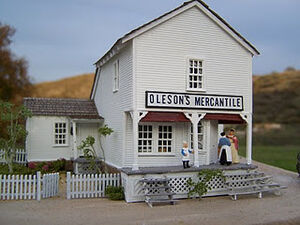 Oleson's Mercantile was the store owned and operated by Harriet and Nels Oleson. An upstairs and side house was attached to the building that they lived in with their children Nellie and Willie; and later with adopted daughter Nancy. The mercantile was the only general merchandise store in Walnut Grove.
Inventory included everything from fabrics and lanterns to children's toys and candy.
Willie often steals candy for free from the Mercantile.
Gallery
Ad blocker interference detected!
Wikia is a free-to-use site that makes money from advertising. We have a modified experience for viewers using ad blockers

Wikia is not accessible if you've made further modifications. Remove the custom ad blocker rule(s) and the page will load as expected.