Rachel Brown Oleson
Biographical information
Gender

Female

Ethnic group

American

Eye color

Blue

Hair color

Brown

Family

Wife of Willie Oleson, daughter-in-law of Harriet and Nels Oleson, sister-in-law of Nellie and Nancy Oleson

Behind the scenes
First appearance
Last appearance
Portrayer
.

Rachel Brown Oleson is the wife of Willie Oleson.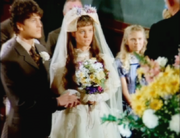 Biography
Rachel was the daughter-in-law of Harriet and Nels Oleson. Her family was poor but she was beautiful and kind and Willie fell in love with her. Harriet disliked Rachel very much saying her son was not going to marry a girl like Rachel and tried to stop them from getting married. (Episode 921: May I Have This Dance?) It was never spoken out loud but it seems Mrs. Oleson has stopped hating her.
Ad blocker interference detected!
Wikia is a free-to-use site that makes money from advertising. We have a modified experience for viewers using ad blockers

Wikia is not accessible if you've made further modifications. Remove the custom ad blocker rule(s) and the page will load as expected.