Ray Bolger was a guest star on Little House on the Prairie. He played the role of Toby Noe in There's No Place Like Home and in Dance With Me. Bolger is best known for his role as the Scarecrow in the classic film, The Wizard of Oz.
Additional acting roles included Battlestar Galactica, The Love Boat, Fantasy Island, etc.
External links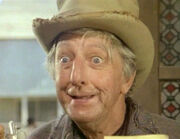 Ad blocker interference detected!
Wikia is a free-to-use site that makes money from advertising. We have a modified experience for viewers using ad blockers

Wikia is not accessible if you've made further modifications. Remove the custom ad blocker rule(s) and the page will load as expected.