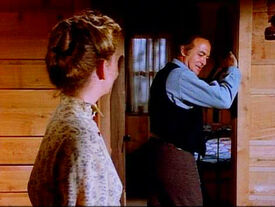 Thomas Stark was a man of Walnut Grove.
Biography
Thomas Stark and his family are poor and can't even afford food. They have moved from town to town and soon move into Walnut Grove, but their troubles had not ended.
His troubles finally come to an end when he is denied a bank loan. Afterwards, he flies into a rage and shoots his wife and daughter and goes on the run and hides at the Wilders' home. While there he goes mad believing Laura and Jenny are his wife and daughter. He is eventually defeated by the wits and ingenuity of Laura and Jenny. (Episode 904: Rage)
Ad blocker interference detected!
Wikia is a free-to-use site that makes money from advertising. We have a modified experience for viewers using ad blockers

Wikia is not accessible if you've made further modifications. Remove the custom ad blocker rule(s) and the page will load as expected.