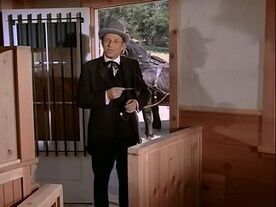 The Walnut Grove Bank was the one and only bank of the town of Walnut Grove.
History
Lars Hanson and Charles Ingalls helped construct the Bank when it became clear that the town was needing a bank, and Ebenezer Sprague became its first banker. Sprague said if the Bank was not completed within 21 days, they would need to pay him.
After Walnut Grove suffered economic conditions, Sprague pulled out and the Bank briefly closed.
The building was later converted into a newspaper office run by Sterling Murdoch and Harriet Oleson, however the newspaper office wasn't popular and it soon shut down.
It later became a bank again under a man called Mr Anderson. A midget called Lou would later get a job there, although he was hassled by Harriet at first.
The bank was blown up and destroyed along with the rest of Walnut Grove in 1890.
Ad blocker interference detected!
Wikia is a free-to-use site that makes money from advertising. We have a modified experience for viewers using ad blockers

Wikia is not accessible if you've made further modifications. Remove the custom ad blocker rule(s) and the page will load as expected.